By: Aimee Bingham Osinski
anbingham@gmail.com
It was a chilly, rainy Fall morning on Saturday.  As I woke and shivered, I thought back to the year prior and my son had friends from college visit outside.  My husband made them a little fire and I made, what I now know is called mulled cider from the Dexter Cider Mill.  The chill in the air made me crave mulled cider, like my mom used to make when I was young. It's bonfire and cider season.
After the rain dried we headed to the cider mill.  The parking lot was filled.  We weren't the only ones that felt the chill of the morning and decided a visit to the cider mill was in order. The business was brisk.  I noticed a larger variety of options from the year prior.
I grabbed, "The Dexter Cider Mill Apple Cookbook."
I grabbed two half gallons of cider, one for one son and one for my house.  I also grabbed a bottle of bourbon barrel-aged hard cider for my oldest son to try. My daughter selected a caramel apple with ghost sprinkles on top.   The man working behind the counter explained that she was the first to buy one with sprinkles on it.  He was very kind and we heard people wish him a Happy Birthday as they visited.  Happy birthday to you!

My daughter loved her apple with sprinkles and she gives it two thumbs up!
Finally, we selected some fresh-made donuts and walked down the stairs to enjoy them by the river.   The donuts were soft and sweet. The weather and the river were gorgeous.  And time with family since our lives have finally restarted, felt particularly good.
The Dexter Cider Mill is your opportunity to taste history.
It opened in 1886 and is the oldest continuously operating cider mill in the state of Michigan.    There have been very few changes to the process in its 132-year history.   I recently learned from a friend bemoaning her move out of state, that she can no longer get unpasteurized cider, that like unpasteurized milk, unpasteurized cider is not easy to obtain or even legal in some areas.  According to my friend, pasteurized cider is not nearly as delicious.  Unpasteurized, from an oak press, utilizing locally grown, Michigan apples, is what you enjoy when you buy cider from The Dexter Cider Mill.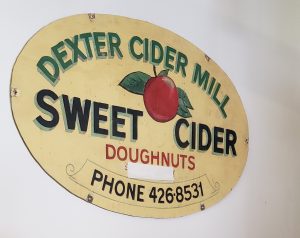 For those of you concerned about Covid,  The Cider Mill still has spacing for customers on the ground and everyone I saw, walked in wearing a mask and there was a plexiglass divider between the man behind the counter and customers. It felt pretty safe for me as a high-risk person.
If you want an opportunity to support a local business as well as local farmers,  head to the Dexter Cider Mill to enjoy a Fall Michigan tradition.
The Mill is open Wed-Sunday  8 am-5 pm, and is located at 3685 Central Street in Dexter.   The Cider Mill does not take credit cards.  Being cash or check.  There is an ATM on site.