Three local educators will be recognized on April 17 as outstanding in their field at the Ann Arbor/Ypsilanti Regional Chamber's E3 Awards event at Weber's Boutique Hotel.  Cassandra Korinek, a first-grade teacher at Anchor Elementary, has been selected as the Most Commendable Teacher of the Year and will receive $500 in school supplies for her classroom from LaFontaine Automotive Group, sponsors of the awards.
Jessica Goerlitz, from Bishop Elementary School in Ypsilanti, was named Most Distinguished Teacher of the Year and Chip Bennett, from Perry Elementary School in Ypsilanti, was named the 2019 Teacher of the Year.
Korinek has been with Dexter Community Schools for 17 years, teaching at Anchor Elementary for 13 years.  She has taught kindergarten, first and second grades.
"She is a consummate professional who always acts with honesty, integrity, and puts the needs of students first," says Craig McCalla, principal at Anchor Elementary.  "Mrs. Korinek frequently spends hours after school and on the weekend delving through student data and student work to ensure her lessons are targeting each students' individual need."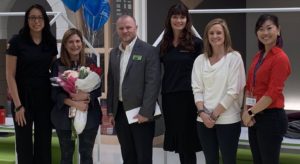 Sheri Ackerman, whose daughter is currently a student in Mrs. Korinek's class, is also pleased with the commitment and individual attention shown each student by their teacher.
"[Mrs. Korinek] wants every child in her class to excel and does everything within her power to make it happen," Ackerman said. "It is not unusual to see her still working in her classroom long after school ends. She makes sure each one of her learners has the tools and support necessary to succeed. Each day, she sends home at-level books for every student to read. It is not uncommon to see her working with a group of kids over the summer at the library. Her classroom is an inviting space for kids, very conducive to learning."
Ackerman has spent many hours volunteering in Korinek's classroom.
"Despite being in a room full of energetic first graders, she remains calm and keeps everyone focused on their learning path," says Ackerman.  "Her excitement for teaching is inspiring. It almost seems like she is just as excited as her student when someone finally "gets it.""
Her passion for teaching was apparent this past winter when Mrs. Korinek called Ackerman at home on a snow day just to share her excitement at the progress Ackerman's daughter was making at school.  It's this "genuine care for students and enthusiasm for teaching" that no doubt prompted the Teacher of the Year committee to select Korinek for this award.
"On behalf of the entire LaFontaine Automotive Group, we're proud to recognize and reward these deserving teachers," said Kelley LaFontaine, VP, LaFontaine Automotive Group. "These teachers go above and beyond in the classroom and community."
Congratulations to Mrs. Korinek on this well-deserved recognition!
Melanie McIntyre covers Dexter schools for WeLoveDexter. To contact her with story ideas email her at meno4@yahoo.com. We would love to hear from you!