There are athletes. Then there are special athletes. And then there are athletes such as Dexter's Lauren Bazick. But don't take our word for it.
"Lauren is a really inspirational story in the making," says Dexter track and field coach Alex Heidtke. "She tore her ACL this fall for the second time in her high school career. The day she officially learned that her ACL was a tear she came in to talk to me about how she still wanted to be a captain and that she would do everything she could for the team and coaches to help us succeed.
"She is selfless in her desire to see the team succeed and seems fearless in her effort to overcome her injury. She is one of a kind in this world."
Bazick's road back to the track has not been easy but there was no doubt she would reach the finish line in time for the track season's starting line. She says that ACL injuries are as much about mental recovery as they are physical.
"There's nothing like knowing that you will be restricted from doing what you love for the next seven to nine months of recovering," she says. "My first ACL tear, I was a mess and completely negative about my situation. I would say that it took so long to bounce back just because of how much confidence I lacked when it came to returning to my normal activity."
But her ACL tear in the fall was very different. Of course, she was "incredibly upset" that the injury would sideline her for most of her senior year. But …
"I told myself that this time I was going to let my injury push me forward instead of backwards," she says. "I explored new exercises like swimming and biking while keeping up with weights and an elliptical until. I found that I learned so much in the process. And here I am, only four months out of surgery and I'm on the track running and sprinting."
She kept the faith – in herself and the people around her.
"I would say my motivation was to have solid faith and recover in a way that would shock my doctors every time I had a follow up visit," she said.
As a freshman, Bazick's ACL tear was a build up from hyperextending her knee multiple times during 10 years of soccer. So when she clipped a hurdle wrong during a race, she landed wrong and snapped her left ACL and meniscus.
This past fall she kept the streak going of girls getting their ACL torn during the flag football game. "In November I was tackled during flag football by two people from different sides of me and snapped my right ACL and meniscus," she says.
Bazick is now running full-steam ahead and if she's lost a step it's difficult to notice. She springs into the track season with an obvious first goal.
"My top goal is to not re-injure myself," she says. "I typically get ahead of myself and have to commit myself to take a step back when I'm feeling discomfort in my knee. While I'm able to run, I'm not allowed to hurdle this season. I truly am thankful for the fact that I actually am running."
She hopes to contribute to the Dreadnaughts this season in the 100, 4×100, and hopefully the 400. Her goal as a captain is to be there for her teammates and coaches as much as possible – just like she promised the coach in the fall.

Bazick finished last season as one of Dexter's top sprinters and hurdlers, finishing with the best time on the team in the 300 hurdlers. She also was the highest point scorer for points scored on just the track (not including any field events).
"The highlight for me was our team winning the SECs again which was phenomenal," she says. "Personally, I was super proud of my 100m time and 300 hurdles time. I had a PR in every event I ran."
She raced out of the blocks as a freshman, running in the 100 dash, 100 hurdles, 300 hurdles and long jump before she tore her ACL in the middle of the season.
"My sophomore year was pretty difficult as I was mainly fearful of hurting myself again," she says. "Physically, I was capable of accomplishing a lot, but mentally, I was not ready. Then, through an extreme amount of training, I came back physically a lot stronger and as a junior captain."
Her junior year she was ready to make up for lost time. "My times got super close to states, which I had a dream of making as a freshman," she says. "I ended the season with the MVP award. My junior was my best year."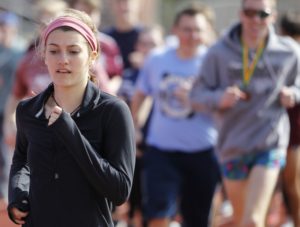 Lauren, the daughter of Greg and Michelle Bazick, also runs well in the classroom. She has a 3.7 GPA and is a member of the National Honor Society. After high school, she will be attending Michigan State University to study exercise science and psychology.
"I would love to obtain my undergrad at MSU and then possibly go onto grad school at either Michigan or Colorado," she said.
But right now she is all in with track and field. There is no place that she would rather be than on the track with her Dexter teammates.
"When I tried out for track, I absolutely loved it," she said. "The team aspect at Dexter is phenomenal and our coaching staff is amazing. The other great thing about track is that you're a part of a team but also very much working on yourself as an individual."
And what will it take for the Dreadnaughts to make another run at an SEC title?
"I just think that as a team, obtaining qualities of determination and ambition can take us so far," she said. "How we execute our physical ability has to start in our heads."
It certainly has for Bazick who wanted to send out a special thank you to a special group of people.
"I want to send a huge shout out to the PTs at ATI Dexter East for helping me for years with all my ACL problems," she says. "They're incredible at what they do for others."
There are athletes. Then there are special athletes. And then there is Lauren Bazick.