While there are still plenty of challenges ahead, goals to be met and points to be scored, Tara Lessnau has aced her move from Birmingham Groves to Dexter High School. Like a perfect serve in tennis, Lessnau seems to have landed in just the right spot at just the right time.
It's been a year of transition for the sophomore who raced right into being a Dreadnaught in the fall as a member of the girls' cross country team. But now that spring is in the air, Lessnau is ready to spring into action with the Dexter varsity team.
Last year at Groves, Lessnau was one of only two freshman to play on the varsity tennis team. "I played various doubles positions, wherever they needed me, including two, three and four doubles," she said. "It was a great experience for me to work with older girls and learn more strategic moves like playing more at the net."
She won't be playing doubles this year. Dexter Coach Robert Smothers has his new player penciled in at No. 1 singles. Lessnau understands the challenges that go with playing the other team's top player.
"It's a combination of mental and physical preparation," she says. "I will be facing some of the best players on every team so I will need to look for ways to win. You have to be open and accept the fact that you can't win every time but if you go out there and give it your all, you will feel accomplished."
One thing she knows she can count on are her new teammates.
"It's easy to see that the girls on this team really support each other, and that's important for everyone," she says. "I'm new to the school this year, but I think the coaches are amazing. They care so much about their players."
It's certainly been a year of change for the tenth-grader who also plans on changing things up on the tennis court.
"My goals for this spring include becoming more consistent and experimenting with new techniques," she says. "I want to contribute to this great team and help us do well in regionals and state."
During the off-season, Lessnau continued to work on her game, taking lessons and playing in a winter USTA league in Ann Arbor. An outstanding athlete, Lessnau has played volleyball, travel softball and travel soccer in her athletic career.
But tennis has served her well.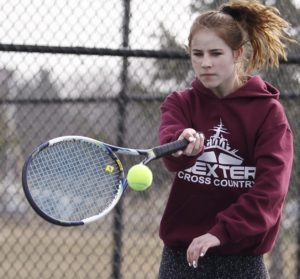 "I first got into tennis by joining an outdoor tennis club near my house at the age of 7 where I played every day in the summer," she said.  "At age 10, I competed on the team against area clubs in Troy, Birmingham and Bloomfield Hills. I played multiple sports on travel teams in the past six years until I decided that tennis is my focus. I also like tennis because my whole family plays."
The daughter of Laura and John Lessnau, Tara has her future already mapped out.
"My plan after high school is to go to nursing school and become a nurse practitioner," she says.
But first there are still challenges ahead, goals to be met and tennis to be played.