Dexter track and field coach Alex Heidtke realizes the importance the "field" part of his team and not just the pole vault – where the Dreadnaughts have dominated for years.
"The throwers don't always get much love," said Heidtke during a practice last week. "And we've got a good one."
That "good one" is easy going but super strong Adam Greve, who admits to being relatively new to track and field.
"I didn't start track until 10th grade and I stayed on JV for the entirety of that year," said Greve, now a senior. "My junior year I broke the distance in shotput for varsity at the second meet of the year. Ever since I have been one of the throwers who attends all of the invite meets. I became a captain at the end of my junior year.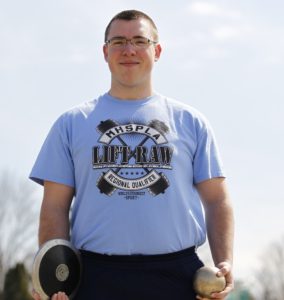 Greve says his two favorite moments in track were getting the varsity record and becoming a captain. He is very proud of being put in that captains role and seems like a great choice.
His recipe for success?
"Our team needs to work harder than the other teams and we need to try our best at every meet," said Adam, the son of Lisa and Pat Greve. "One of the big reasons that we have success is because of the quality of our coaching staff and the willingness of our athletes to work hard."
Greve's goals for this year are all about the team.
"I am hoping to score points in the meets we attend to help our team become SEC champions," said Greve, who over the winter participated in the Dexter Powerlifting Club and attended winter conditioning to help get ready for the track season.
He first got into track when one of his friends, who is now one of his teammates, told him about throwing and that he should join the team.
"It gives me something to do after school and it is an environment where I can push myself and compete," he said.
Greve, who also participates in band, pit orchestra and boy scouts, will attend Grand Valley State next year. He plans on participating in powerlifting.