Posted in Michigan May 20, 2017 
Michigan is home to plenty of famous towns and tourist attractions. From waterfront resort areas like Traverse City and Glen Arbor to larger cities like Detroit and Lansing, there are all sorts of must-visit spots here in the Great Lakes State. But Michigan also houses plenty of underrated destinations that are worth visiting — and you'll want to see for yourself.
Dexter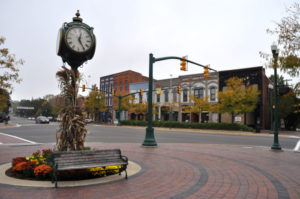 Flickr/Michigan Municipal Legue
Located approximately an hour by car from Detroit, this charming small town has something for everyone. Whether you're trekking alongside the stunning Huron River, enjoying a picnic at the Dexter-Huron Metropark, or checking out the town's quaint shopping district, you're sure to fall in love.
Zeeland
When most people visit West Michigan, they opt for towns right on the waterfront. But Zeeland, located just a short ten-minute drive from Holland, is lovely in its own right. With neat neighborhoods and plenty of shops to explore throughout downtown, this adorable community will encourage you to "Feel the Zeel!"
Arcadia
Nestled away along Michigan's famous M-22 route, Arcadia is a must-see for those who love the great outdoors. It's a small town, containing a population of just under 650 residents. But its size doesn't detract from its beauty: you'll find breathtaking overlooks, sweeping shoreline views of Lake Michigan, and plenty of opportunities to appreciate Michigan's natural charm.
St. Joseph
Often overshadowed by its more famous nearby counterparts (such as South Haven), St. Joseph is a delightful Lake Michigan beach town that certainly shouldn't be missed. This port town draws in growing numbers of visitors each year, and it's easy to see why: with waterfront access, plenty of vineyards nearby, and a tight-knit community, St. Joe is Michigan at its finest.
Calumet
As the former mining capital of the Great Lakes State, Calumet boasts a fascinating history. Today, visitors to this Upper Peninsula town will enjoy immersing themselves in the history of the region by visiting various sites, including the Coppertown USA Mining Museum and Keewenaw National Historical Park. If you're a history buff, Calumet should be on your list of destinations here in Michigan.
Iron Mountain
Many U.P. visitors are immediately drawn to towns like Marquette and Munising, which feature some of the state's most stunning waterfront views and attractions. But lesser known towns are well worth exploring, and Iron Mountain is no exception! In any season, you'll find gorgeous views of the surrounding landscape. Embark on a rafting trip, hike through the forested areas nearby, or visit the WWII Glider & Military Museum. Talk about a unique getaway!
Lexington
Want to catch a beautiful sunrise? Make your way to Lexington and spot the sun as it appears over Lake Huron — there's nothing quite so breathtaking. Whether you're looking to visit a winery, spend a day lounging on the beachfront, or shop 'til you drop in a friendly downtown district, you're sure to find it here. Perhaps you've never been to Lexington, but you'll soon be completely enamored.
Caseville
Flickr/Redi-Rock International
Don't let this town's tiny size fool you: it offers just as much bang for your buck as larger resort areas in Michigan do. If you can swing it, rent a cottage along the waterfront and settle in for a well-deserved stretch of relaxation in Caseville. You'll find a sweet downtown area with lovely shops, restaurants, and bars to explore. If that weren't enough, the town also hosts an annual "Cheeseburger In Caseville" festival, which pays tribute to Jimmy Buffett himself.
Mt. Pleasant
Flickr/Michigan Municipal League
Some are quick to write off Mt. Pleasant as a town overrun with partying college students, but that's simply not true. Yes, the area is home to Central Michigan University, but the school brings all sorts of pride and positivity to the area. From special events on campus to a lovely downtown area dotted with hometown bars and restaurants, as well as access to the beautiful Chippewa River, Mt. Pleasant is a classic Midwestern town with friendly residents to match.
Clawson
This Oakland County town offers all sorts of fun events for every member of your family throughout the year. For fresh produce of all sorts, visit the Clawson Farmers Market and pick up some food for dinner — there's even an indoor market for chillier days. Film buffs will be charmed by the town's Cinema in the Streets celebration, while everyday visitors will absolutely adore the area's friendly neighborhoods, green parks, and open space.
Coldwater
Perhaps you've heard of Coldwater, but have you ever considered it as your next in-state getaway destination? This town is full to the brim with activities to enjoy, whether you're interested in history, nature, or any combination of hobbies. Head to the golf course, catch a flick at the Capri Drive-In Theater, or even check out a show at Coldwater's beautiful opera house. What's not to love?
Rogers City
This lovely little waterfront town is the perfect place to escape from the hustle and bustle of everyday life. Explore its 40 Mile Point Lighthouse or splash in the refreshing waves at P.H. Hoeft State Park. You'll find ample opportunities to embrace Michigan's maritime heritage while getting out and about in this wonderful community. Rogers City might not be our most famous area, but it sure is one of our most beautiful.
Tell us, fellow Michiganders: which town in the Great Lakes State has always seemed underrated to you? Where should we visit next? Share your thoughts and comments below — and happy exploring!