The Dexter baseball team scored two runs in the fourth to take a 2-0 lead over Adrian on Saturday in the second game of a doubleheader. The Dreads entered the top of the seventh looking for some insurance runs in a close ball game – they scored seven "insurance" runs to break the game open and cruise to a 9-0 win and a sweep of the doubleheader.
It was Dexter's third win over the Maples in two days.
Three Dexter pitchers combined to throw a shutout in game two on Saturday. Ryan Moore induced a fly out from Devon Roberts to finish off the game and send the game into the win column.
Dexter's offensive firepower was led by Drew Bielas, David Kreske, Kevin DeVoogd, Mack Martin, Joe Horne, and Alex Mills, who all drove in runs. Bielas, Kreske, DeVoogd, Martin, Horne, and Mills each had RBI in the seventh inning.
Brady Rosen was the winning pitcher for Dexter. The senior allowed two hits and zero runs over two innings, walking one. Moore and Jacoby Haley entered the game out of the bullpen and helped to close out the game in relief.
Carson Sikkenga took the loss for Adrian. He lasted six and a third innings, allowing seven hits and eight runs while striking out six.
Dexter tallied nine hits on the day. Mills, Bielas and Kreske each collected two hits to lead Dexter.
In the opener, Dexter scored a 9-1 win over the Maples. The Dreads scored three runs in the first and two more in the second to take a 5-0 lead. They scored four in the fourth to pull away.
The Dreads piled up 15 hits in the win with Kreske and Martin leading the way with three each. Ryan Schoch had two hits and three RBI. Bielas and Ryan Schoch each had two hits.
Martin went six innings and allowed just four hits, one earned run while striking out 10 Maples in the process. He allowed just two walks. Rosen pitched an inning in relief.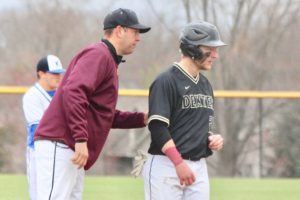 On Friday, Dexter defeated Adrian 11-0. The Dreads again jumped out to an early lead, scoring five runs in the first inning. They added one in the third and five more in the fourth in a game called after five innings.
Martin had three hits, including a triple, and three RBI to lead the offense. Andrew Spicer and Mills each had two hits.
Schoch had two strikeouts and allowed just two hits from the hill and went four innings to earn the win.