Lend me your ear and I'll tell you how to release your inner Van Gogh.
We like new businesses in Dexter. We really like new and unusual places to visit and explore. When I heard that Ruby's Makery was having an open house Thursday, I popped by to see what it was all about.
Ruby's Makery is an arts and craft studio owned and operated by Jinelle Sherry. Located in downtown Dexter between the Pub and Whit's End Barber Shop, Ruby's Makery offers crafts, classes and events for all ages.
I asked Jinelle the obvious question: "Why did you open an arts and craft studio in Dexter?"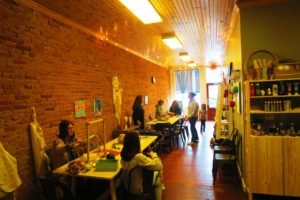 "I have been doing mobile art classes now for four years," she says. "I travel to homes, workplaces and various events like parties where doing art is the entertainment or team building exercise. Well, I have been frequently told that I should open a permanent studio. It finally got through to me and here it is."
Jinelle enjoys travelling around as she has done the past 4 years and plans on continuing. Art is a great way to engage people because there really is no wrong way to do it. It is expression and expression is a release of sorts. She is hoping to get various groups around Dexter involved – clubs, groups of friends, businesses, seniors, and of course, kids.
Anyone can drop in during their Open Studio hours, Thursday 3-6 pm and Saturday 11 am – 2pm. There are projects available for kids, youth and adults alike. For $10 you have the use of their stock art and craft supplies with which to express yourself however the mood strikes you. Or, you can choose one of the featured projects for that day.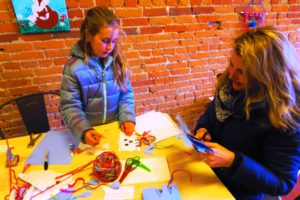 I was looking around the new place thinking how much fun my grandkids would have painting pictures, making dream catchers, painting a bird house, or working with some easy air-dry clay. "What is your age recommendation for kids?" I asked Jinelle.
"All ages," she replied. "Kids under twelve-years-old need to have an adult with them during Open Studio. We'll help guide you into projects that match their age."
On other days there is the Art Explorers Class that is for ages 3-5. This is a one-hour drop-off class. There is also the Toddler Art Playgroup for ages 18 months and up. Parents stay for this one. An art book is read and then the group does a sensory art project such as moving paint around on the paper, playing with pipe cleaners, or stringing beads.
Specific workshops will be also offered such as the Pom Pom Wall Hanging Workshop on Sunday, March 18 for ages 12 and up. There is a wide variety of birthday parties available at Ruby's Makery. The Slime Party sounds like fun. I mean, what kid doesn't want to go home with a tub of slime? They take care of the decorations, the project, and clean-up. You get credit for the fun and the kids think you're a rockstar.
I think one of the more popular events is going to be the Adult Paint Night. BYOB.
You can go to Ruby's Makery website for more information on hours, scheduled events, and registration.
If you like what We Love Dexter is doing with local news coverage and want to see us continue to grow, you can help by supporting our advertisers — and by taking a moment to support us with as little as $5 here. Thank you so very much.