Yesterday's ugly storm gave way to this morning's stunning landscape. The brilliant and sparkling highlights of snow clinging to every branch in this morning's sun against a backdrop of shadow, forest green and brilliant blue sky was captivating, transformative even. Apology accepted Mother Nature.
I knew the spectacular artwork would all disappear as the day warmed so I had to get out in it while I could. I chose Sloan Preserve on Baker Road. I have been driving by it since Scio Township purchased the 50 acres and established it as a natural preserve in 2012 but was always in too much of a hurry to stop and smell the pines. Today I would.
I parked and checked the map posted on the board. I saw mention of a potentially hazardous stream crossing and decided that was the way to go. You know, wilderness adventure et al. The map showed that the stream forked and came back together to form an island. Might make for some good photos.
The snow was wet and slippery. My old hiking boots didn't have any tread left so traction was an issue. I gave my good hiking boots away last week in Belize which is another story, coming soon I hope. The going was easy enough and I marveled once again how wonderful it felt to be on a trail even with the cars rushing by on Baker Road just a short distance away.
Bright sun, blue skies, and I had the place to myself. In a word, everything was simply "perfect." So glad I took the time. I soon reached the water crossing and as it turned out the water was much to high. Wet feet are one thing; a wet waist is too much trouble today. I turned around.
Sloan Preserve is gorgeous, easily walked and close by. You'll love it. I'm looking forward to going back again. Here are a few photos.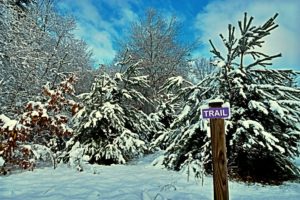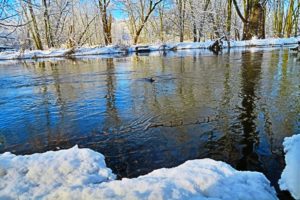 If you like what We Love Dexter is doing with local news coverage and want to see us continue to grow, you can help by supporting our advertisers — and by supporting us with as little as $5 here. Thank you so much.