The days are counting down to Spring and its never to early to start thinking about your outdoor projects.  Poseidon Ponds and Landscaping of Dexter, Michigan is a full service landscape company that specializes in all things water such as, water gardens, ponds, waterfalls and in this article natural lakeshore installation.
Poseidon Ponds & Landscaping is a Michigan Certified Natural Shoreline Professional through the Michigan Natural Shoreline Partnership.   So what is a natural shoreline landscaping? It is defined as, The act of creating landscapes that restore and preserve Michigan's lakeshores for today and for future generations. The process begins with a shoreline that is typically made up of lawn and or rocks and restoring the native ecosystem. Contrary to many beliefs, a natural shoreline does not have plastic pink flamingos and play sand.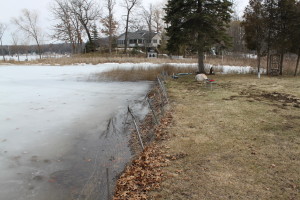 Many lakefront homeowners prefer to have a well manicured and hardened or rocky look instead of a whole bunch of plant life. So why install a natural shoreline if that is the case? When we transform a native shoreline into a well manicured or hardened shoreline we are disrupting many naturally occurring processes that aren't easily viewed or understood. It can be a simple as the exchange of water from the lake to the surrounding soil or as complicated as the life cycle of the native fauna (i.e. Turtles and Frogs). Most of the issues with altering lakeshores simply has to do with the secondary problems that are caused with a seawall or rock wall. The waves that once caused little to no damage with the natural shoreline have been amplified and passed on to the next open shoreline. With a series of hardened shorelines in a row the damage or erosion done to the next shoreline without rocks or seawall tends to be significant.
The Michigan Natural Shoreline Partnership is educating homeowners and contractors to diagnose, plan, design and effectively install or restore natural ecosystems to the in-land lakes of Michigan. All lakes are different and each design has a unique look that reflects the native plants of the particular lake. The shoreline is carefully studied for wave energy, soil structure, neighboring structures, location of wind, etc. to determine the best method of creating a natural shoreline. Plants are select from a list of native Michigan plants as well as looking at the native plants that already exist in the watershed and are doing well. The bio-engineering of the shoreline is typically done with minimal soil disturbance and soil erosion blankets consisting of coconut coir fibers are put in place to stabilize the soil and give the native plants a head start of any remaining invasive plants. Establishing a natural shoreline often takes three seasons before it has reached its maturity. During that time it is very important that all erosion structures are kept intact and that the area is kept clear of plants that are not wanted. Part of our program of installing natural shorelines at Poseidon Ponds & Landscaping is to provide a service that not only installs and maintains the shorelines, but also educates our clients so they can one day provide the necessary care to maintain the shorelines natural beauty.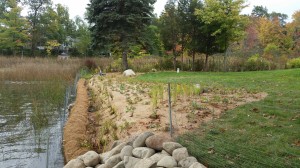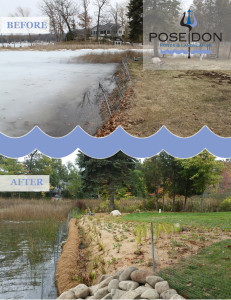 Since most homeowners have worked hard to have a well manicured shoreline, but are also very concerned with the lake ecosystem a majority of the projects combine the native plant life with a variety of different rock options. As residents of Dexter we are certainly very familiar with lakes. While the native shoreline installation may not be the most popular kid in the landscaping world we must remember that as much as we enjoy our sandy beaches and cool yard art we are sharing the lake ecosystem and we must do our part to ensure their survival for future generations to enjoy.
Appreciatively Yours,
Poseidon Pond Mann
Cory Mann
(734) 726-5061